Carol aka 'Catfish'
Yes, it's me, gray hair (almost down to my waist), double chin, and one of my 'babies'. If you've visted the Green Thumbs page, then you've probably seen the green and purple shamrocks which grow like weeds inside. They also bloom almost continually! But they make me think of spring, so here you are.
Speaking of Spring, the college where I work is closed for Spring Break now! Yippee! Which also happens to be Bike Week (the Motorcycle kind). Time to write! Time to spring clean too, literally.
I'm hoping to do a bit of spring cleaning for Seaview Stories as well. Of course, I've said that before so we'll see.
Sunrise over Daytona Beach, Saturday, March 9, 6:45 A.M. promising a beautiful day. Would you believe I had to wear a jacket, gloves, and nearly froze my tail off to take this picture! (Hey, we're used to warmer temperatures here! High winds and low 50's do not make Carol aka Catfish a happy camper.)
But by 10 A.M., it was sleeveless shirt and swimsuit time in the 70's! The water wasn't that warm though. I spotted four surfers in wetsuits!
Please contact Carol aka Catfish by using this link.
Okay, now some hard stuff that has to be said:
Seaview Stories (me, actually) reserves the right to refuse to post any contribution, story, project, picture, etc if I feel it's innapropriate for this site.
But don't worry, I've ony had to turn down 2 contributions since Seaview Stories inception.
Sometimes it may be awhile before I can post your contribution. Please be patient. However, life does sometimes get in the way and things can pile up.
Seaview Stories Update for March, 2013
Well, it's been awhile between newsletters. If we want to be scientific, then it's been 577 days, or 1 year, 6 months, and 27 days, including today, March 9, 2013.
If Admiral Nelson should ask, then 49,766,400 seconds, or 829,440 minutes or 82 weeks, not counting today since I last posted a newsletter. No doubt I'm a bit overdue!
Okay, let's get some tech stuff out of the way.
Visits:
I have no idea how many visitors pop by each month anymore due to tripod's new reporting sytem, however, they did report that within the last 7 days, Seaview Stories had 1,058,405 successful requests for pages, and 37,052 successful server requests.
These numbers don't seem quite real, and I'm amazed that my little site has grown so much. Keeping in mind one visit can mean several page requests. So I can't let myself get all that excited.
I can, however, say thank you to all fellow voyagers who have helped to keep the fandom alive and have visited and contributed to the site.
Domain stuff:
The domain name of seaviewstories.com has lapsed (I used it for a sister site on a different webhost which I no longer use (good riddance-I hated it being so user unfriendly!) with a link to Seaview Stories here and am waiting for it to be renewed to good old Tripod which is very user friendly (thank you, thank you, thank you!).
I'm hoping I can get things moving this week. I'm on Spring Break now, so I'll have some nice long weekdays available for lengthy phone calls or support chats.
Current domains are:
Seaviewstories.biz
Seaviewstories.info
Seaviewstories.org
File Status:
As of today, Seaview Stories has used:
784.1 MB
Good thing tripod increased the amount of MB allowed. For awhile I had to remove some files as I'd exceeded the limit. Now, fortunately, I have lots of room, in fact, in the Gigabytes! So hopefully, we can keep posting stories, projects, and pictures to our heart's content!
The problem is finding the time. As you know, other than holidays, it's usually weekends that I find time to post materials.
Since Seaview Stories is primarily (or at least was begun that way) a fanfiction site for Voyage to the Bottom of the Sea, you might find it interesting to know that to date there are 87 writers still on site, though we've lost a few in addition to that number who,over time, who went on to greener pastures.
In addition to the authors, many other voyagers have contributed ideas for contests, graphics, animations, links, etc.
Thank you all so very much!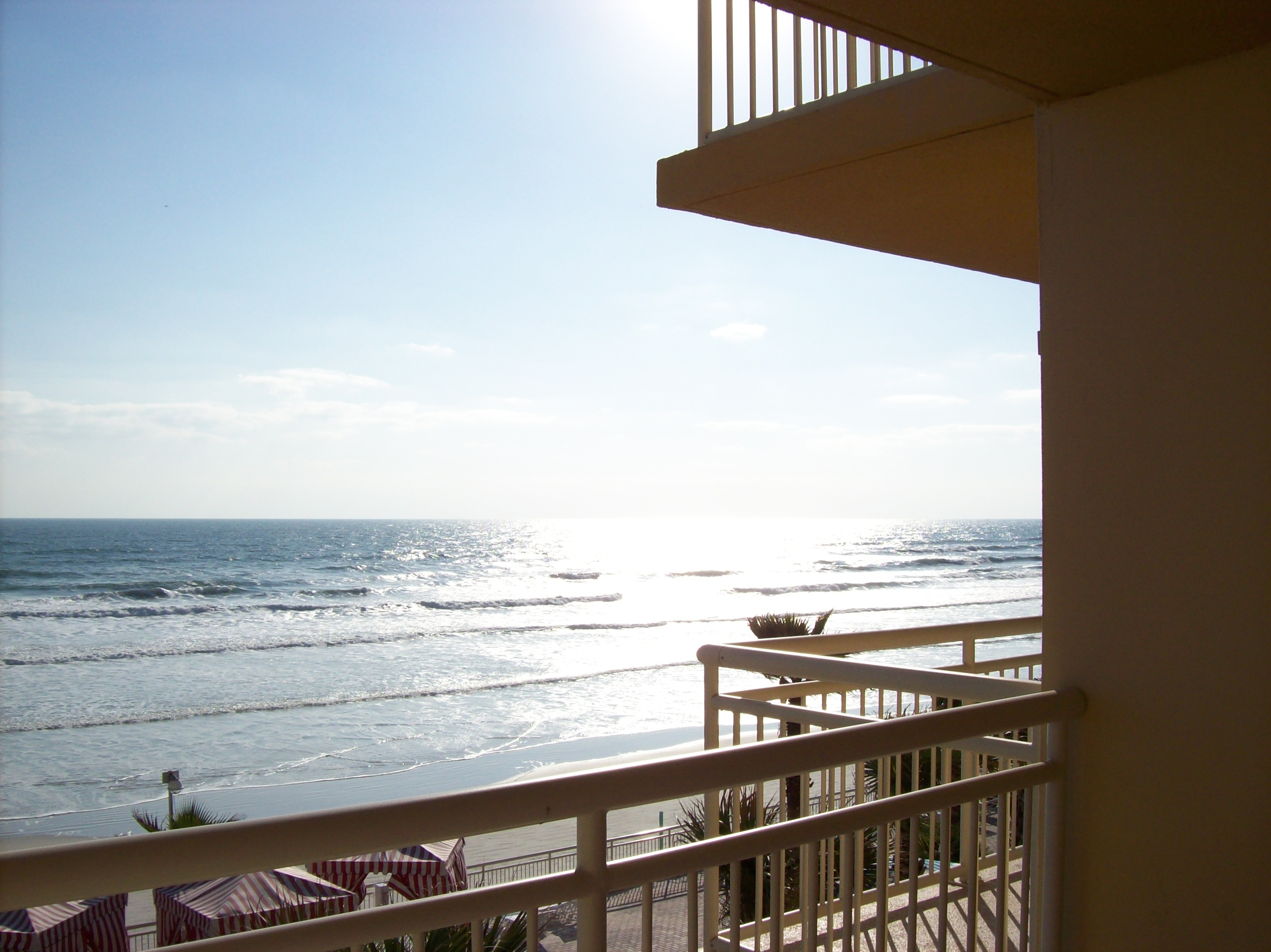 View from my room at the Daytona Beach Shores Resort and Spa.
Hey, a girl needs a little R&R at times! A rejuvinating and welcome respite.
I may actually live in the area, yes, but beach access is limited, especially before dawn. And I really wanted those early morning sunrise snaps.
So once or twice a year I reserve a room, pamper myself, and enjoy the beach up close and personal without getting sand and salt all over and inside the car.