Sept 20,2015
I've added a crochet section to my needles, hence the new name Needles and Hooks.
Crochet
I'm pretty much still a beginner with crochet. I have continual problems with the abbreviations in the instructions, and also remembering how to do the various stitches, and especially the joining of a motif to another.
Thanks to online Annie's and Craftsy, along with a 'how to' DVD, I've managed to complete two doilies and am working on an afghan.
I never knew there were so many varying ways to make a granny square as there are varying instructions as to how many chains in a corner, how many chains to get to the next hole to put your stitch in, etc.
So I settled on the pattern I saw in the 'how to' DVD. I've made mistakes, am still making them, but since the afghan is not a present, and only to help keep the sunlight from fading my late mother's sofa, I only hope it turns out reasonable.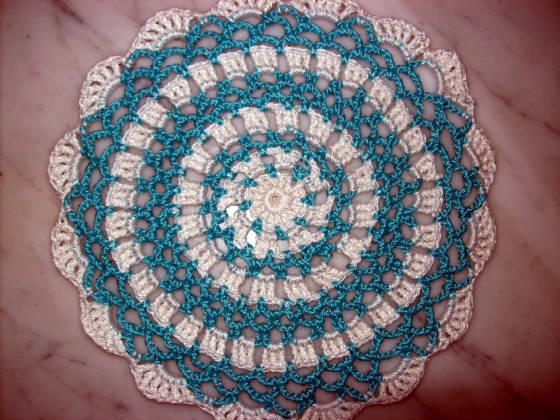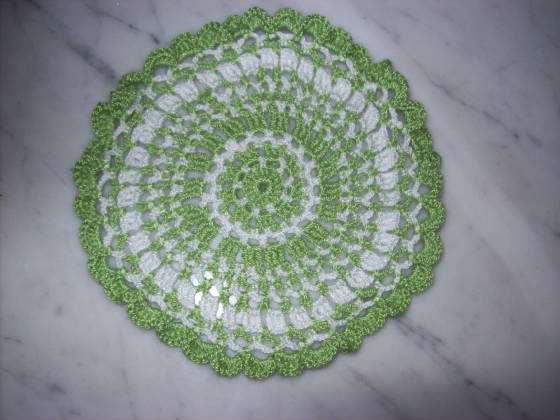 A couple of kitties with a granny square in progress and one completed.
There are various ways to join granny squares. I tried a few, needles and hooks, but settled on this one as it's easiest for me, not necessarily good looking. Here you can see I used little plastic safety pins (I don't remember just what they're called, but I like them to help keep the two squares aligned.

Backside of the project in progress.
Completed, at last Nov 17, 2015.
Lots of joining mistakes, but looks okay enough. Also is big enough for a full sized bed.
NEEDLES CORNER
I first learned how to embroider from my maternal grandmother, and it has remained a beloved hobby.
From then on, with the help of some 'Favorite embroidery stitches' , 'How to cross stitch', and 'How to do needlepoint' kinds of instruction books (the true titles of which I don't remember), I've amassed an assortment of stitched items over time and have decided to share them here.
Speaking of time, however limited it is due to my job, I still manage to pull out the pin cushion now and then and attempt even more stitches.
Some projects have only had charts to go by; others were stamped on canvas or cloth.
One project was merely a penned line sketch on some very uneven gray cloth which wasn't intended to be stitched at all! But the line drawing practically begged me to embelish it. And so it remains my oldest and favorites. The fabric was weak and uneven, and the normal 2 or 3 threads one would normally use tore the fabric. I had to resort to one thread at a time, and with the help of one of those 'stitch' manuals and my own imaginagion, I turned that simple little line drawing into a rather nice English cottage, if I say so myself. And I'm not even English!
Other projects, which were easier to accomplish, were the needlepoint and stamped cross stitch designs. Stamped designs are easier to do, but they do have the disadvantage of pulling and being uneven.
One project, (counted cross stitch) which is still in progress, is based on a contrived portrait of David Hedison as a 18th century naval officer, and is a computer software charted design based on it. I'm finding it a very difficult, if not impossible work, to complete.
I constantly loose count of where I'm supposed to be with counted cross stitch, even with guide lines. So I resorted to what I call a 'shadow' stitch. Acutally one strand of black thread, in a half cross stitch over the Aida cloth to guide me later on and to perhaps give the completed cross stitch a little padding. We'll see.
I'll include in this subsite, photos of my completed stitchery projects and some that are 'works in progress'.
I'm a messy stitcher and I'm sure if anyone saw the backsides of the projects, would say 'shame on me'. But I do this for myself, not a museum, nor projeny (I don't have any), a way to relax and simply enjoy bringing something colorful to life.
In fact, one such project,
Christmas Bells
I turned into a story! You can see the unfinished and completed project with this link.
Happy stitching everyone!